Determining hair care just on hair type is a little simple. What we really should say is determining hair care based on your personal hair system because your entire system is involved from the root beneath the surface, the sebaceous glands through the skin, down the shaft, to the very tip. You'll want to develop a routine that supports the whole system. This is our recommendation for formulating a regular healthy hair care routine that will compliment your scalp and hair. The 4 steps are Groom, Cleanse, Condition, and Style. But how and when you do these steps is informed by your Scalp Surface, Strand Structure, Porosity, and Hair Texture.
To get a deeper understanding of what your natural system is like, try changing your existing routine and challenge the norm by switching to a 'Noo Poo' method for a week or so. Ditch all your styling products for just a short time to re-wild your hair system. It's not required, but it would be an interesting experiment for you. Read this article if you are looking for answers to common hair challenges .
Scalp Surface
The first step is to determine what your natural scalp condition is and how that may inform your routine. When you are determining which scalp type you have, remember to focus oily on the scalp surface and not the hair. For example you could have dry split ends and an oily scalp. To determine which scalp type you have just notice how your scalp feels a couple of days after washing. Notice I said days after. You need to give your scalp a chance to do what it does naturally. Each time you wash, you strip your scalp and your hair.
One thing that is universal no matter what your hair type and scalp condition is you only need to wash your hair once or twice a week. And when you do wash, wash your hair through twice (first time for your debris second time is for your scalp)and generously rinse clear. For the best hair health, you want to make sure your scalp is clean and debris free and the pores are not clogged.
Hair Strand Structure
The thickness of your hair can indicate it's ability to hold a style or how it will handle products. Strand size has no impact on your routine for cleansing and only a little impact on your conditioning and styling. They way to determine how thick your strands are is fairly easy to do. Take a piece of sewing thread and lay it next to a strand of your hair. If your hair is smaller and barely visible, it's fine. If it matches size, your medium and if it is larger then you have thick strands.
Porosity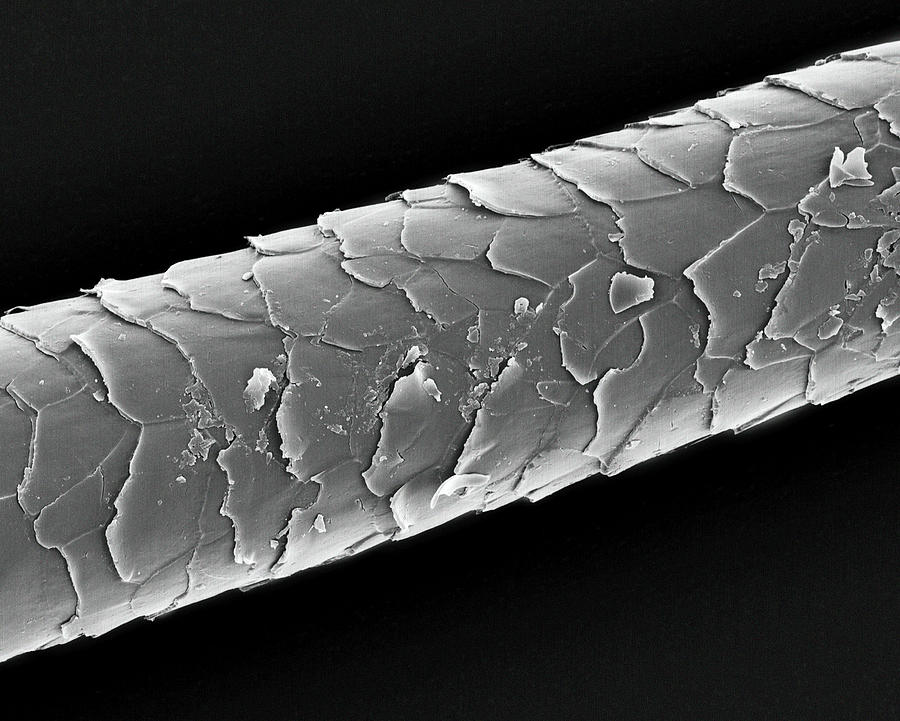 A persons porosity has to do with the porous nature of the cuticle covering your hair. The cuticle is composed of cells stacked like tiles over the hair follicle. It starts in the root and extends all the way over the tip to protect the hair fiber. The level of porosity is inherited but it may change over time. Changes can happen from a number of factors from over use of hair care products to chemical treatments and even environmental impact.
You can easily detect how porous your hair is by taking a couple of strands and floating them in a cup of water. Give it a minute or two and if it floats, then you have low porosity. If your strand sinks to the bottom like a rock then you have highly porous hair. If your hair is anywhere in-between then you have balanced hair. Lucky you!
Hair Texture
Texture is pretty easy to detect. Just take a look at your hair after you let it air dry. Your locks will fall into one of these categories.

---
We are not your Doctor
The Très Spa website may contain articles on science, or medical topics; however, no warranty is made that any of the articles are accurate.There is absolutely no assurance that any statement contained or cited in an article touching on science or medical matters is true, correct, precise, or up-to-date. The overwhelming majority of such articles are written, in part or in whole, by nonprofessionals. Even if a statement made about science or medicine is accurate, it may not apply to you or your symptoms.
The information provided at Très Spa is, at best, of a general nature and cannot substitute for the advice of a medical professional (for instance, a qualified doctor/physician, nurse, pharmacist/chemist, and so on). None of the individual contributors, nor anyone else connected to Très Spa can take any responsibility for the results or consequences of any attempt to use or adopt any of the information presented on this web site.
Nothing on Très Spa's site or included as part of any project or product of Très Spa, should be construed as an attempt to offer or render a medical opinion or otherwise engage in the practice of medicine.